Auto Repair & Maintenance Mechanics
Proud to be serving Montgomery, Conroe & Willis and Montgomery County.

Specialization is the Key
As experts in our field, our specialization of service provides better value for Toyota, Lexus and Scion owners.
Call Today To Schedule
Our philosophy is simple:
We do a good job at a good price…because we want you
to come back the next time you need help and because we want you to refer us to your family, friends & neighbors!
Welcome to Toyomasters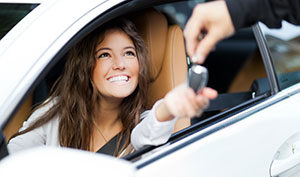 ToyoMasters is the premier independent auto repair and service shop for Toyota, Lexus and Scion automobiles in the Lake Conroe Area and we are conveniently located at 11631 FM 830 Rd in Willis TX 77318, just less than 3 miles west of I-45, and roughly 2 miles from Lake Conroe's shoreline. Standing behind years of hands-on experience with Toyota, Lexus and Scion automobiles, ToyoMasters has mastered the art of comprehensive and complete service, repair and maintenance for these three, widely loved and cherished Toyota family brands.
Independent specialization is the key, and our auto technicians are proud to offer Toyota, Lexus and Scion owners an unparalleled level of independent auto service. When you need peace of mind that your vehicle is being serviced correctly, you can trust ToyoMasters. Many Montgomery County drivers consider the ToyoMasters team as their trusted advisors for all things automotive. Because we are confident in our high-quality craft, ToyoMasters offers a 1-year/12,000-mile warranty on every repair. We can do this because we only use OEM gradeparts or better and because our auto mechanics have ASE Certified and vehicle-specific training. This means that ToyoMasters is uniquely suited to best understand your vehicle and will be able to find issues quickly and recommend auto repairs and service options that will save you money in the long run.
We love offering high-quality auto repair to our clients, and we enjoy the reliability and value Toyota, Lexus and Scion vehicles provide. Whether you live around the corner or across town, Toyota family automobile owners all over Montgomery, Willis, Conroe, The Woodlands, Huntsville and beyond have discovered what we have to offer. Please stop by or call to schedule an appointment, we look forward to meeting you!
Engine Repair
Air Conditioning Services
Tire Rotation & Wheel Alignment
Vehicle Electrical Repair
Battery Services
Shuttle Services
Headlight & Taillight Services
Transmission Repair
Brake Services
Muffler & Exhaust Services
Suspension Services
Hybrid Car Repair
Oil Change
Electric Car Repair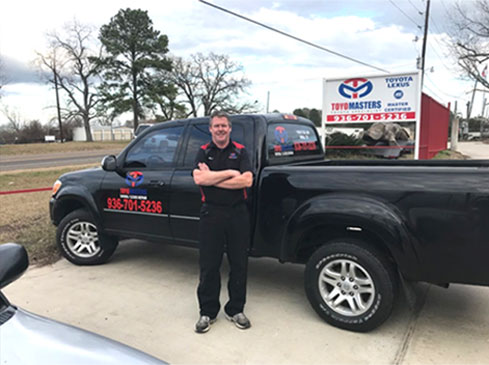 A Message From The Owner
I've been working on Toyota's for over 30 years in the big dealerships, and am excited to have finally opened my own specialty auto repair business in the Lake Conroe Area (where I live). I have attained the highest level of certification at Toyota – and know these lines/models inside out. Establishing quality relationships built on honesty, respect & value and providing quality work is what drives me.
Mark Strong
Business Owner